Home





Contact Information
sales@raysdiesandtubing.com
telephone: (802) 868-2040
fax: (802) 868-2181
mailing address:
Ray's Dies & Tubing
P.O. Box 385
St. Albans, VT 05478
shipping address:
Ray's Dies & Tubing
718 Route 78
Swanton, VT 05488


copyright 2017 Ray's Dies & Tubing
All Rights Reserved.
Web Site Design by Jim Gadue
Photography by Richard Gadue

From 1960 to 1976 Ray's Extruder Die Service operated out of a converted garage at Seven Walnut Street in St. Albans, Vermont. From within these humble surroundings Raymond Gadue produced a product of such quality that companies from around the country and around the world sought him out. His work even went to the moon on at least one Apollo mission. We at Ray's Extrusion Die Service take pride in these humble beginnings and strive to live up to the standards of quality and service set by our founder.


Raymond Gadue was a dreamer, a handyman and a believer in making it big. His attempts at greatness included the manufacture of soap as a special hand cleaner, a potato chip company, ownership of a small country store, and he even tried his hand at selling typewriters. Ray trained as a machinist while working for a large corporation in Pittsfield, Massachusetts, and worked with his son, Ray Jr., doing building construction, to name just a few of his enterprises.


It was this construction work that found him by a wire coating factory being built in Vermont that he and his son were working on. When the building was complete both Rays went to work for the company.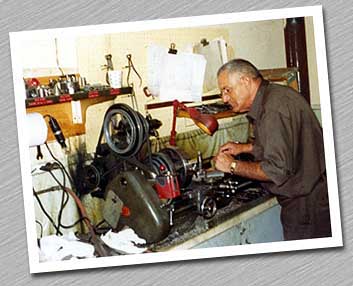 Ray watched from a distance as an engineer representing a manufacturer of a wire coating machine was having problems getting it to operate effectively.

"What's the problem?" Ray queried.

"It's the die insert. If we can find one good one out of ten we're lucky," the engineer shot back. They were experiencing short runs, the insulated coatings were tearing, and burn outs were frequent.

"If a man could design a *TFE die that would work, he would have it made."

This thought echoed through Ray's mind. "One that would work?"


Ray was soon to have plenty of time to think about it, for the new and struggling plant was forced into layoffs, and the man with so many dreams was unemployed. The year was 1960 and unemployment checks amounted to $35.00 per week. The design of a proper *TFE die would be the answer to having it made. He thought of this and knew that it must be made of a high quality non-corrosive steel. He found such a steel in the shaft of an old outboard motor that was bent and seemingly useless except for a prybar. Ray purchased it for $5.00 at a time that $5.00 would buy a lot of groceries. He then proceeded to rent a lathe at a dollar an hour. No one really remembers how long it took him to make his first die, but Ray knew in his heart that the inspiration that he had felt would lead him to a finished product that would work.


He excitedly sent his die to a local Vermont wire coating plant to try. After a period of a few weeks, the company ordered ten more. Still no invoice was sent, and finally a call came for Ray to go to their office. The questions started rolling out at Ray.

"How much are you charging us?"

In old Vermont fashion, Ray asked back, "Do they work?"

The engineer replied back, "so-so."

Ray quoted the price.

"If we order a hundred, would you give us a discount?"

His confidence now bursting, for Ray knew they wouldn't be asking for a hundred if they didn't like the product, answered, "No, they are all milled by hand, and it takes me as long to mill the last one as it does the first." Ray got the order at his price.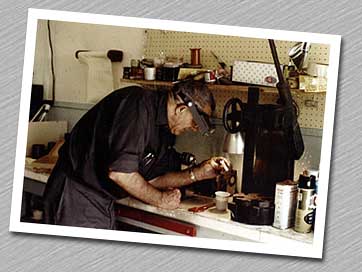 E. I. Dupont, a company always searching for dies that compliment their *TFE coatings called Ray and wanted to know how big he was. Ray jokingly gave them his weight, then told them he was one man working out of his garage. Their words were that he would "Grow with the industry."

Ray's Extruder Dies are now being used all over the world. They were right. Ray grew with the industry. He achieved his realization of a worthy goal. He established a business that is, to this day, carried on in a manner of quality not affected by the pressures of competition.


Ray Sr. Passed on in 1977, but not before he had it made. Having it made to Ray meant being able to travel and see this beautiful country. He did this with his loving wife, Gertrude, who stood by him through his various projects.


Ray Jr., who now heads our company, shares his Dad's Vermont ingenuity and inventive interest. They worked together as a team beginning in 1965 when it was Ray Jr.'s job to make the wire guide tips that were used in the dies.

When Ray Sr. Died in 1977, Ray found himself alone, as his brother, who worked alone with him and his Dad for awhile, decided to follow his career with a large corporation. Ray knew that he must expand, and with the help of his wife, Eileen, they began a program of controlled growth. They were determined not to forsake quality for expansion.

The first opportunity came when a friend told him of a company that was going out of business and they had a grinder for sale. The price was $1,500, and it was the only time that they borrowed money for expansion. Eileen remembers paying $63 per month on a machine that sat in storage for two years. Ray admits that when he bought it he didn't know what its uses were but couldn't pass up the deal. Today the same grinder cost over $30,000.

Ray Jr., like his father, set out to master the machine, and it wasn't long before Ray's Extrusion Dies & Tubing became as well know for their pioneering in centerless grinding of the most intricate tubing as for their dies. For example, Ray has ground tubing that is used by doctors in exploratory procedures to diagnose heart problems. Since it is introduced into artery and threaded through into the heart, the diameter must be small and the OD. finish ultra smooth, Ray's comments on this were, "We had to violate a few commonly accepted rules of procedure for conventional work"

Ray believes the stainless steel tubing market has been a tremendous boost to their expansion because they offer specialized cutting and sizing. To develop this part of their business Ray spent years of searching for a quality manufacturer where he could purchase his volume requirements to satisfy the needs of his customers. Although Ray believes in making a profit, his method of purchasing saves his clients money because, in the small business tradition, he passes the saving on. Most of the customers actually prefer to have their orders precision cut and shaped rather than utilizing their own machine shop.

The story is really the same today of ingenuity, quality, and confidence of a small Vermont based company serving a very large industry. Ray's Extrusion Dies & Tubing is still family owned and operated, where values have been handed down from generation to generation.
* A Trademark of E.I. Dupont Co.