Home







Contact Information
sales@raysdiesandtubing.com
telephone: (802) 868-2040
fax: (802) 868-2181
mailing address:
Ray's Dies & Tubing
P.O. Box 385
St. Albans, VT 05478
shipping address:
Ray's Dies & Tubing
718 Route 78
Swanton, VT 05488


copyright 2017 Ray's Dies & Tubing
All Rights Reserved.
Web Site Design by Jim Gadue
Photography by Richard Gadue
Tubing is the core of our business. For years we have been a manufacturer and distributor of small diameter hypodermic tubing. We can supply stock footage or cut lengths, depending on your requirements.

| | |
| --- | --- |
| | We do tube bending and forming as well as tube fabrication. |
Using the latest technologies, we have the ability to cut high volumes of burr-free tubing.
From standard angled cuts to more complex work, our capabilities include EDM, laser, and electrolytic cutting, rotary abrasive cutting, centerless grinding, surface grinding, electrolytic grinding, wire straightening and ultrasonic cleaning to create products that are used in the making of various devices. To ensure that our products are within our strict tolerances, we use super precision micrometers, laser micrometers and camera vision inspection.
| | |
| --- | --- |
| | We are a stocking distributor of small diameter tubing, including standard hypodermic sizes. |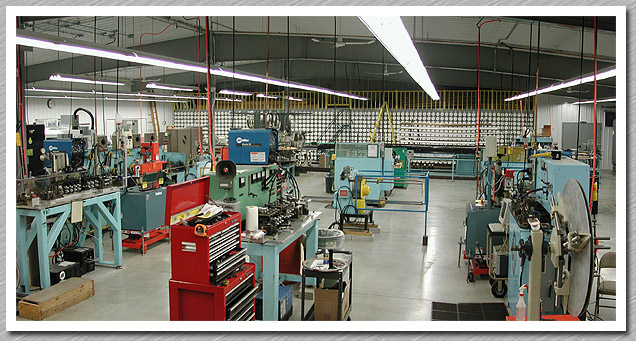 Our STAINLESS STEEL TUBING MILL allows us to provide short lead times on many types of tubing for hypodermic and other uses. We can provide you with the following types:
WELDED AND PLUG DRAWN TUBING
"As-Welded" this tube is drawn with an external die and an internal plug. The inside diameter is cleaned of all lubricant after drawing. The inside weld bead is removes, making a weld seam that is less visible on the OD and ID.

WELDED AND DRAWN TUBING
"As-Welded" this tube is drawn with an external die to produce diameters from .012" to .350". the welded seam is less visible on the OD.

AS-WELDED TUBE
This tube is made from strip stock, roll-formed and Tungsten-Inert-Gas (TIG) welded. The welded seam is visible on both the ID and the OD. This tube can be produced in 1/8", 3/16", 1/4", 5/16" and 3/8" diameters. This tubing can be ordered in coils or straight lengths. Tolerances on the OD are +/-.005" and wall thickness +/-10%.




TUBING LIST
We carry over 3,500 sizes with ID's under .250"!
A list of our sizes can be found in this MS-Word document.(Newly updated for 2017!)